14.02.2009 - Aqualandia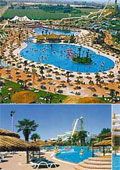 Aqualandia is the "Water & Theme" Park number 1 in Italy. On a surface of 80,000 sqm. Aqualandia, who reproduces a real Caribbean Island located near Venice, is a unique reality, offering water attractions first in the world (like the highest slide of the worldwide), themed areas, shows of high level, live from 105 Radio and multiple events (combination of dance and fitness, sports competitions etc).
Many opportunities for children and for those who, from a dip in the swimming pool and a descent from the slides, will want to enjoy moments of pure well-being and relaxation.
On the evenings and by night, the Adventure Golf and Vanilla Disco give continuity to this innovative fun centre.