14.02.2009 - Adventure Golf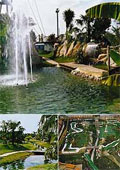 Via Buonarroti
30017 Lido di Jesolo Venezia
Tel. 0421.971779

A real themed mini golf with 18 holes surrounded by a great tropical garden with waterfalls and lakes, where challenging in races with friends.
Every day, from 10.00 to 19.00 and from 20.00 until late at night, Adventure Golf is waiting for the visitors with unforgettable moments of fun.