02.12.2009 - Terrazzamare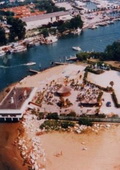 The architectural structure of Terrazzamare in Jesolo is a huge palafitte hanging over the mouth of the river Sile, caressed by the sea and watched to the view of the imposing figure of the lighthouse, in one of the most charming places of the Adriatic.
An indoor bar and two outdoors bars and a kitchen (that serves snacks and small plates) are available to the customer. The diffusion of music in the whole area, the bars attached to the multi-spaces, make Terrazzamare an unique place, an ideal space to host large events. At the same time retains the intimate charm of the club, adapted to the many needs that its rich artistic program requires.