14.02.2009 - The Blue Trail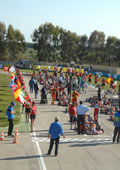 Built in 1961 in an area of 80,000 sqm. the "Pista Azzurra" (Blue Trail) continues today to be one of the major circuits around the world and home every year of karting competition and motor sport events such as Ferrarissimo, international meeting of Maranello's cars.
From March to September, the Pista Azzurra also provides the opportunity for everyone to experience the thrill of karting with his kart rental for adults and children.