14.02.2009 - Orsippa Boat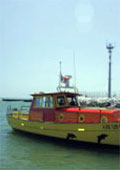 Orsippa is a boat vintage wood equipped with every comfort, built in 1951. The Orsippa lends itself to various activities such as sea fishing rods and bait rendered by it; trips along the coast of Jesolo and Cavallino, assisted by the crew in complete safety. Unforgettable nature walks and photographic safaris bird watching to the discovery of the most beautiful in the Venice Lagoon.
On board is offered a plate of spaghetti with fish. A day on board with the company of your family and friends is a fun without limits of age. If weather conditions do not permit the exit in the open sea, the excursion takes place in the lagoon. Relaxation and fun are always assured.